[By Big C]
YES! I am a new menstrual cup convert! I used to wonder when converts say "there is no going back" and NOW, I am telling all my friends… really.. there is NO going back…
Bear with my long story before I answer your burning questions!! 
I have always been a traditional sanitary pad user and I actually enjoy shopping for pads because I am looking to try new brands / range. My flow has always been heavy especially for the 1st 2-3 days and to be honest I hardly get time for much toilet breaks when work gets busy. So it can get very irritating (and insecure) when I use slim pads as I can feel gushing at times and I am always paranoid about leaking. 
Most of the time, I look out for Maxi pads and they are like forever chunky. But well, it works. Kotex has been my go-to for comfort, absorbency & holding power, price (sounds like me shopping for my kids' diapers…haha). Recent years, I started using Secret Day and it works for me too!  And I really liked the comfort! 
Since Korean pads work for me, I even went to try the herb kind – Yejimin. The smell works for me and the absorbency is okay too. BUT please do NOT buy the Silk touch version. It is real bad! It even gave Small C "diaper rash". The cotton one is way more comfortable. 
Then I continued with my pads UNTIL I did my copper IUD.
One of the side effects – HEAVY FLOW. So imagine I already have heavy flow and now it is going to get heavier! But well, benefits outweigh side effects so I went ahead. Should it not be suitable, I will just remove it then. 
The flow was terrible! The first period had me change pads like 5 times more than usual. And I couldn't sleep through the night because of the gushing feeling and leakages.  
Then I decided to try Tampons! Thinking it can "stop" the flow from gushing out that quickly and I could stay clean and less gushing feeling. 
It was awkward because it is my first time using Tampons and I had to read the instructions over and over. I even googled just to make sure there is indeed tampons that do not require applicators. 
It works well for the 1st hour! Then I got to keep changing out. Which make things even more troublesome especially at work. 
My last resort – MENSTRUAL CUP!
Initially I didn't want to spend more than $30 on Freedom cup in case it doesn't suit again. So I searched for one from Qoo10. I know it can be dangerous to buy such sensitive products from Qoo10 but I was desperate to just test things out. I found this one that has SGS test report (slightly more legit I guess?). Only cost $10 and I went for it. 
The first try was awful!
I followed the instruction and did the U-fold and it opened up mid way and stretched and ouch. I googled and I found another folding method – sea-shell / push-down fold and it slipped in smoothly.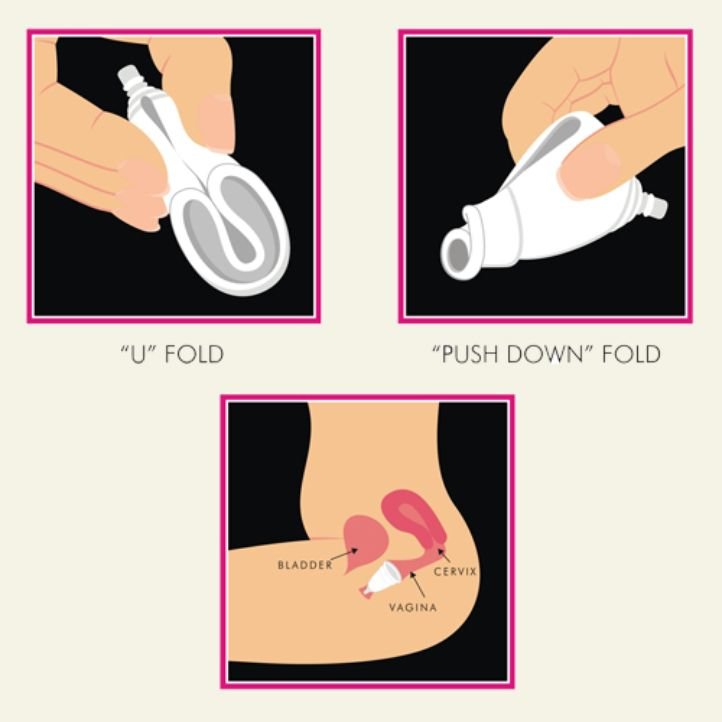 I love how it can be used 10 – 12 hours without risk of toxic shock syndrome (which is one of key risks of using tampon) and I can now sleep through the night again! 
So immediately I went to order my Freedom cup from Redmart! And yup, everything else is history! 
Below, I have compiled key information from Freedom cup and my own experience. 
What is menstrual cup?
A menstrual cup is a small cup made of medical-grade silicone that is inserted much like a tampon and sits at the base of the cervix collecting menstrual fluid. One cup can serve a woman up to 15 years. 
What are the benefits?
Leak-free is REAL! Because the cup basically cups over your cervix so the blood can only flow into the cup! Unless you did not allow the cup to open up after insertion (which likely you would know) or it is overflowing. 
And there is no bad odour like "overdue" pads. You will see your menstrual discharge, blood etc which I felt was also a great way of understanding our health. 
Will you feel the cup? 
I swear it feels like nothing! Sometimes I forgot I am having my menses! Unless the mild cramps want to remind me about it. So basically if you have inserted it right, you really really do not feel anything at all! You can even go swimming with it. 
How often do you need to remove the cup? 
I actually do it twice a day, less the first two days, I do have to do it 4 times. If you do have normal heavy flow and not massive flow like mine, twice should be fine. So I usually remove, clean and all before I leave home and another time during end of day shower. 
For first two days, I usually put on pantyliner as well, so in case it starts leaking, I would know it is full and I need to change it out. 
To be honest, I am quite sure the cup is sufficient for most ladies! 
Can the cup get 'lost' inside?
No, it cannot. Even though the cup does not have a string like a tampon does, it will not get lost. The rim of the Freedom Cup opens up and forms a vacuum seal against the muscular walls of the vagina. Once the walls of the vagina are contracted or squeezed, the Freedom Cup slides back down to the vaginal opening, and the stem of the cup should stick out from the body for easy removal. 
This is true! But of course it takes a little practice to get it in and out at first. Then you become a pro (like me!) 
How do you clean & store? 
Cleaning the cup is simple. Once removed, use clean water and a fragrance-free soap to wash out. Dry it with tissue or a clean towel. 
Sterilizing is not necessary every time you empty the cup out. But you are advised to sterilize the cup before and after your period.  Simply, get a small porcelain bowl, place your Freedom Cup inside, and pour hot water over.  Remove and store in cotton bag provided. 
Is it messy with blood spewing all over?
Actually I thought it would be! Turns out, it is more convenient and cleaner than my pad days. Once removed, I just need to pour everything out into the toilet bowl, dab it with toilet paper. And reinsert it. 
And I love how clean (like normal days) it is during my normal pee and poo! No more messy blood and whatnot and the endless wiping to keep myself as clean as possible. 
Can I use a Freedom Cup if I have an IUD?
If you have any pre-existing health conditions or are using an IUD, check with a doctor before use.
The good news is that research (https://bit.ly/2qGCV7v) has shown that there is no increased risk of IUD expulsion with the use of menstrual cups. Unfortunately for some, after insertion, the body rejects the IUD naturally. 
Since different women have different vaginas and anatomies, we recommend anyone using an IUD to check with their doctors prior to using a menstrual cup. 
Yup, I have IUD and so far so good! Of course I do take extra note not to tug forcefully on the cup during removal of the cup. I will reach in and pinch it to release the vacuum before removing. I think it works! I am already on my 5th cycle. 
Why did I choose Freedom Cup? 
Freedom Cups aims to get reusable menstrual cups to women. 
We work on a buy-1, give-1 scheme where every cup purchased allows us to give a cup to a woman in an underprivileged community. 
This allows for a win-win situation where women in the developed world decrease their use of non-biodegradable sanitary products, and women in developing communities gain access to proper sanitation for their periods.
I love that it has a social cause to it! And it makes me feel like I am rendering that little little help. 
Also, this is founded by three Singaporean sisters (Read here)! Proud to support local initiatives! 
Now, would you be the next convert? Share with me if you are!
If you would like to ask me questions or know more about the procedure, feel free to contact me at thechuasisters@gmail.com
You might want to also read…
Getting my IUD at polyclinic
My first period after IUD (copper)
Preparing yourself and your baby for Infant Care (Singapore) – Part 1
Some of the featured items below…